Zur deutschen Version
Government spokesman Lieutenant Yongyuth Maiyalap announced on 28 March 2015 that the excesses of recent years during the Thai New Year celebrations are morally unacceptable. The Government therefore issued the following eight rules of conduct:

1.) It is necessary to wear appropriate and proper clothing. Indecent clothing is prohibited. Wearing clothes of traditional fabrics is encouraged.
2.) It is forbidden to sell and drink alcohol. This applies to all locations where festivities are held during Songkran.
3.) It is forbidden to tamper with liquids/materials other than water, powder, ice cubes or foam.
4.) It is prohibited to use large water pistols with high water pressure or other dangerous aquatic toys. Only traditional vessels should be used.
5.) It is forbidden to drive pick-up trucks transporting water tanks on their loading area to the event venues.
6.) During Songkran the community shall represent an appropriate image to the outside (world) . It is important to ensure that the behavior or dancing always corresponds to Thai culture.
7.) Are private events held on the occasion of Songkran, so make sure that they promote and are in line with Thai customs.
8.) The time during which Songkran can be celebrated must be stated strictly (in advance) to prevent crime and traffic congestion.
(translated from the German language blog post at:
http://passauwatchingthailand.com/2015/04/09/8
)
"Chaperons"
During the last years there were of course again and again debauchery and excesses, especially in places where large crowds gathered at organized events in Bangkok such as Silom Road and Khao San Road, or in tourist centers like Chiang Mai. For example drunken girls showing their bare breasts publicly in front of a raucous crowd, drunks of both sexes occasionally smeared not only the faces of passers-by with a mush of talcum powder and water but also their breast and butts and of course another major problem is the excessive consumption of alcohol. Most of all these gaffes/excesses are mostly happening in the main tourist areas. Often especially the tourists are the ones who are kicking over the traces heavily. Some confuse the road with a public peep show, others splatter water on food stalls or splashing water at people who are just passing by, even when these people show it clearly that don't want to get involved.
But those excesses are exceptions. We ourselves have experienced again and again at the "normal road Songkran" that most Thais, although when they celebrate exuberantly, they also stay peaceful, friendly and thoughtfully. Almost always we were forewarned or asked if it is okay if they shower us with water or smear our faces with talcum powder. They often even offered us drinks and food and invited us to their parties.
More pictures from the unorganized "street Songkran":
http://yanawa.blogspot.com/2013/04/happy-songkran-2556-happy-new-year-2013.html
Of course, all this does not have much to do with the original Songkran festival, but there are more than sufficient opportunities all over the city for all those who want to celebrate the festival the traditional way.
Just imagine that the governments in Germany or Brazil would point out that it is absolutely okay to celebrate Carnival, but please: no loud music, no loud singing or bawling, no parades, no alcohol and no immoral costumes. Instead please sing traditional songs and wear decent clothing like fancy dresses and tuxedos or Dirndl and Lederhosen.
Fortunately, most Thais ignored the rules of the self-appointed guardians of morality and celebrated Songkran the way they used to do for many years, as the pictures below are showing.
Rule # 1: clothing from "traditional fabrics"!
Rule # 4: No big water guns with high water pressure!
Rule # 4: Traditional vessels only!
Rule # 7: Always in accordance with Thai customs!
The eight rules above correspond magnificently with the world view of the conservative regime, that, among other things, staged the coup with the aim to morally renew Thailand. At every corner uniformed police and security forces were stationed. There were also hundreds of plain clothed security officers observing the celebrations, ready to take immediate action against immoral or offensive behavior. For example in Chiang Mai, the police were shutting down bars which were selling alcohol despite the alcohol ban. In Ayutthaya the police stormed a party venue and prevented a planned concert and a foam party from taking place:
...AYUTTHAYA – About 100 angry youths and street vendors protested against provincial authorities, police and soldiers prohibiting them from organising a live concert and foam party on U-Thong road to celebrate the Songkran festival....
(
https://www.blogger.com/(http://www.bangkokpost.com/news/general/527151/ncpo-crashes-ayutthaya-teens-songkran-party
)
But when animals are tortured for the amusement of the masses it does not seem to trouble the self-appointed guardians of morality.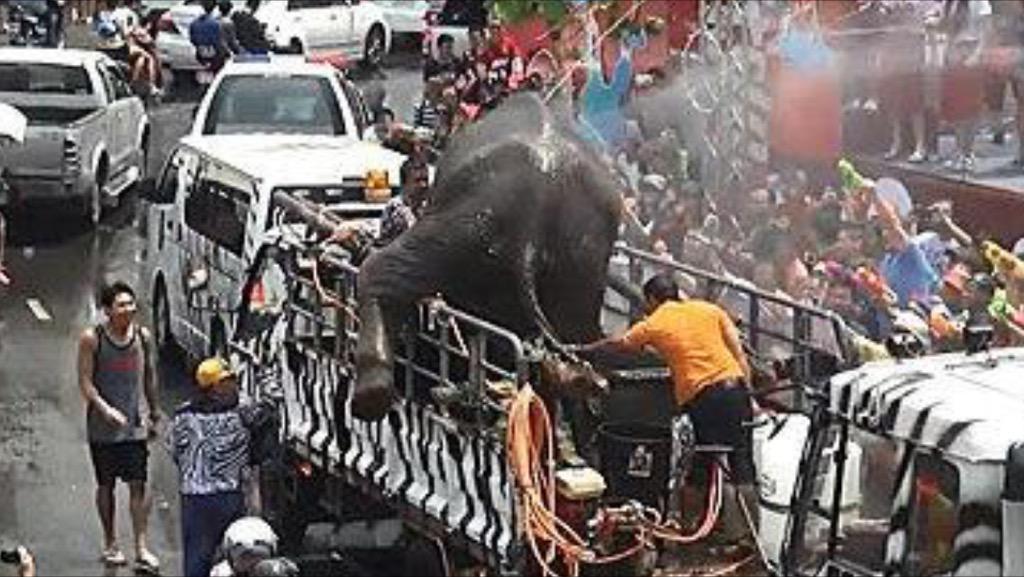 However, we still wish you a
belated
HAPPY SONGKRAN